Eva Davidová
created: 17. 01. 2023 10:16 modified: 17. 01. 2023 10:16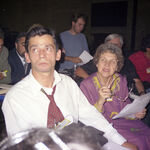 The photo from the NGO Jekhetane-Spolu, which shows Eva Davidová, a leading romologist and photographer during the 5th Congress of the International Romani Union (IRU), which took place from 24th to 28th of July, 2000 in Prague.
The photo captures her together with other participants of the Congress.
Eva Davidová was the Czech art historian, ethnologist, sociologist and photographer. She was among the founders of the Czech Romani Studies. Since the middle fifties of 20th century she systematically researched the way of life of Roma from ethnological point of view.
copyright: State Scientific Library in Prešov
recorded: 28. 07. 2000
category: fine arts
tags: secular digital artistic in persona photography Eva Davidová general audience internal