Ján Goroľ
created: 11. 05. 2021 08:40 modified: 11. 05. 2021 08:41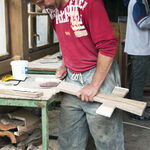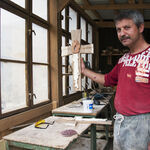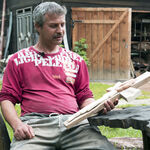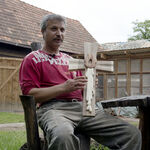 Ján Goroľ comes from the village of Soľ. He worked as a locksmith, he never had a desire to work with wood. He got into the craftshop and woodcarving through the Community of Paul the Apostle and the priest, Martin Mekel. With the help of faith, one can do things he has not done before. Who can draw, can become a woodcarver, he says. The most difficult thing when drawing is to draw eyes and nose correctly.
Ján Goroľ is a member of the gospel band LOND.
The photographs were taken in 2013 during the documentation of the ROMA ART Čičava craft workshop. The sheltered workshop was established in 2012, initiated by Martin Mekel.
copyright: State Scientific Library in Prešov
recorded: 07. 06. 2013
category: crafts
tags: active traditional artistic wood carving Ján Goroľ general audience internal