Vojtech Kökény
created: 29. 06. 2022 12:30 modified: 29. 06. 2022 12:34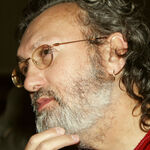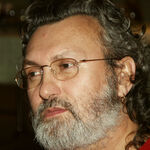 PhDr. Vojtech Kökény (Kökény Kotyer Béla) was born in 1956 in a Romani settlement in the village of Cakov near Rimavská Seč. He came from a musical family. For many years he worked as a worker on various construction sites in Slovakia and abroad. He devoted himself to fine arts, politics and local activism. As he himself mentions in one of the interviews, he was not a prolific painter. He worked with pencils, water and oil paints. He exhibited his works mainly in the Romani Traveling Gallery, organized by the Civic Association Jekhetane-Spolu under the leadership of Daniela Hivešová-Šilanová. From 1995 to 2005 he worked at the District Office in Rimavská Sobota as a social worker.
He was a member of the Roma Civic Initiative (ROI) party, later joined the Roma Intelligence for Coexistence (RIS) party, and ended his political career in the Roma Coalition Party (SRK). In 2005, he ran for Headperson of the Banská Bystrica Self-Governing Region.
The author of the photo is a Romani photographer Jozef Ferenc. Digital photography was created in 2006 in Rimavská Sobota during the presentation of film documentaries about four Romani artists.
Sources of information:
RNĽ č.738-741/2006
copyright: State Scientific Library in Prešov
recorded: 13. 01. 2006
category: fine arts
tags: secular digital artistic in persona photography Vojtech Kökény general audience internal